2008 SPROUT FILM FESTIVAL
Schedule: Friday, May 9
LOOK, I'M IN COLLEGE!
30 min./documentary/2007/USA
The story of what happens when four young men with autism, from a public school, are chosen to pilot a college inclusion program in NYC.
Including Samuel
58 min./documentary/2007/USA
Including Samuel examines the educational and social inclusion of youth with disabilities as a civil rights issue.
MR. BLUE SKY
86 min./narrative/2007/USA
A narrative about an unconventional love triangle between three childhood buddies; two girls, one born with Down syndrome, and one boy, who all grow up fighting who they are inside, how they are perceived by society as a whole.
Schedule: Saturday May 10
ARC
6 min./music video/2006/USA
A music video of a man who copes with his disability by living through his dreams.
JOHN AND MICHAEL
11 min./animation/2004/Canada
An emotionally moving love story about two men with Down syndrome, this animation explores themes of love, loss and healing.
YOLK
15 min./narrative/2007/Australia
When a fifteen-year-old girl with Down syndrome steals a sex book from a mobile library, her mother forces her to take it back in an embarrassing family spectacle that only strengthens her daughter's rebellious and irrepressible desire.
SHERI AND PAUL
11 min./documentary/2004/USA
A couple speaks candidly about their relationship and the feelings they were experiencing a mere three months before their wedding.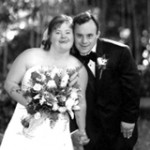 STRONG LOVE
56 min./documentary/2007/USA
We follow world-class weight lifter Jon Shapiro and his childhood sweetheart Holly James, over the course of three years, starting with their decision to get married.
STREET ANTHEM
3 min./music video/2006/USA
Hip hop artist LAZ D performs his inspirational music against the backdrop of crime scenes, parking garages, and the streets of downtown Portland, Oregon.
THE GILLIAN FILM
44 min./documentary/2006/USA
A moving portrait of an exceptional young woman who works at a local veterinary clinic, rides horses, takes dance classes, and is developmentally disabled. When Gillian decides to move out of the house, her mother must come to terms with letting go.
TODAY'S MAN
55 min./documentary/2006/USA
A sister's search to understand her brother's life – this film tells the story of Nicky, who diagnosed with Asperger Syndrome has grown from a genius child into a young man who doesn't quite fit in the world.
SIDECARS
30 min./documentary/2007/USA
All of us have psychological and physiological qualities that shape our perception and experience of the world we live in. While these qualities do not define us, we carry them with us like a motorcycle carrying a sidecar.
MY CLASSIC LIFE AS AN ARTIST
21 min./documentary/2004/USA
"It's better for growing vegetables than people", says autistic artist Larry Bissonnette, of his years living in an institution. Filled with humorous and poignant assessments of his life, this documentary also explores the complexities of expression.
OUTSIDER: THE LIFE AND ART OF JUDITH SCOTT
26 min./documentary/2006/USA
From a lifetime of institutionalization to international acclaim in the art world, this film is a portrait of an eccentric an dtalented individual who has prevailed in the face of daunting odds.
DEBBIE DREAMS
2 min./music video/2006/UK
This animation is a dream sequence of a young learning dialed woman named Debbie. She is trapped in her house by her wicked aunty. The only way she can get out of the house is in her dreams. The film shows dream people guiding her and helping her to run away.
THE MAN IN THE HAT
3 min./music video/2006/UK
This film is about a helpful character. He helps people to get things. In this film he gets us to follow him and the signs that he creates.
HANDS AWAY
3 min./dance performance/2004/Germany
People often express joy through movements. The clip does not only represent the visualization of the song Hands Away but is at the same time a study of the way young people with various handicaps dance.
I GO DOWN
5 min./music video/2005/Finland
A music video about the ability of a musician not the disability of an autistic man.
SVEFN-G-ENGLAR
9 min./music video/2001/Iceland
This unforgettable and award-winning video, conceived by and supervised by the musical group, Sigur Ros, features the Perlan special-needs theatre group acting out a simple but beautiful play about the elements.
MOVIN' ON UP
12 min./documentary/2007/USA
A short, from a work in progress: A portrait of a professional UK based dance company.
FAR FROM THE SUN
16 min./narrative/2004/USA
An Argentine family immigrates to the US in hope for a better life. The story is told from the point of view of a son who has Down syndrome. (English subtitles)
LOOSE CONTACT – ONE WILL MEET
28 min./narrative/2004/Germany
The film tells the story of a slowly developing intimacy between two shy people. We follow their mutual evasions, and how they draw closer only to draw back again. (English subtitles)
UPS NOT DOWNS
9 min./documentary/2007/UK
Have you ever wondered what it would be like to live with someone with a disability? 'Ups Not Downs' shows how one family in the UK deal with day-to-day life with a child with Down syndrome.
SIBLINGS
10 min./documentary/2003/Canada
A touching look inside the world of those who have grown up with a mentally challenged sibling and how this relationship has had a profound effect on their lives.
FATHER'S VOICES
14 min./documentary/2004/USA
Four fathers of young children with a disability provides a glimpse into their lives and emotions.
THE TEACHINGS OF JON
57 min./documentary/2006/USA
An insightful and soul-touchign film about Jon, a 40-year-old man, severely and profoundly affected by Down syndrome and how a family allowed themselves to change, grow and succeed because of him.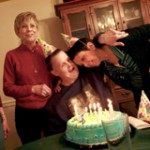 MY FAVORITE CHILD
14 min./documentary/2007/USA
This film showcases footage from Think of Me First as a Person, a film made in the 60's and 70's and narrated by a loving father about his son, a boy with Down syndrome.
A TIME FOR GEORGIA
15 min./documentary/1970/USA
This ground breaking documentary, premiered at the White House Conference on Children (1970), portrays the behaviors and achievements of Georgia, a four year old girl with autism, in her special education class.
BURT
25 min./documentary/2002/USA
In the year 2001, at the age of 79, Burt agreed to sit in front of a camera with his wife Barbara and talk about his life. He gives a chronological history of his life and times beginning in 1936 when he was 15 years old.
LEST WE FORGET: SILENT VOICES
43 min./documentary/2007/USA
Lest We Forget: Silent Voices chronicles the first person histories of people who lived in Ohio state institutions during the last years of institutionalization and the long journey home that is continuing today. While based in Ohio, the stories have national historical significance as a civil rights movement.
AUSTISM: THE MUSICAL
93 min./documentary/2007/USA
Filmed over the course of one year, this upbeat documentary follows five autistic children in Los Angeles as they write and rehearse their own full-length musical, tossing aside all stereotypes in the process.